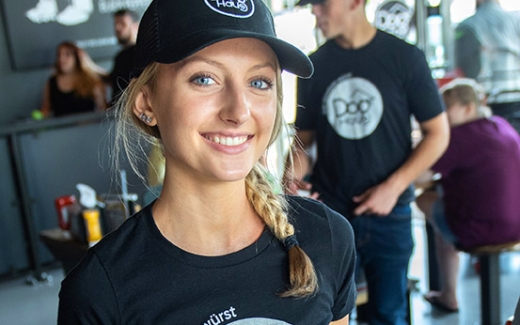 WE CATER TO YOU
Make your next office luncheon, team meeting, birthday party, family gathering or special event a hit with Dog Haus Catering. Guests can chow down on gourmet hot dogs, sausages, sliders, wings, tenders and breakfast burritos—and don't forget the sides, drinks & dessert!
Our online ordering makes it easy to feed groups of all sizes with options to satisfy everyone and fit every budget. And with our simple service setup, your guests can choose from a variety of fresh toppings to build their own masterpiece or enjoy our chef-curated creations. Escape the ordinary by letting Dog Haus cater for you!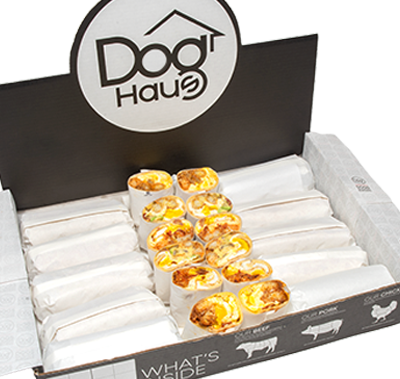 BREAKFAST BURRITOS
Expertly rolled flour tortilla burritos, filled with premium meats and ingredients, served with a side of spicy mayo.
Minimum 10 breakfast burritos per group order.
Breakfast Burrito options include the following for catering orders:
Egg & Cheese Burrito (veg)
Bacon Burrito
Sausage Burrito
Little Mule Burrito
Hangover Burrito
Impossible Cali Burrito (veg)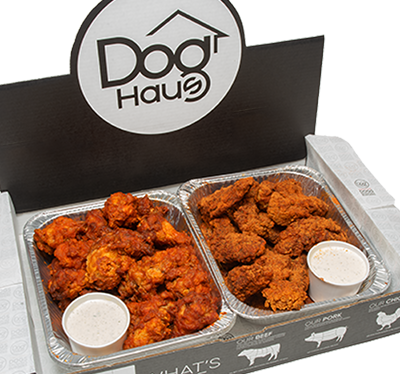 WINGS & TENDERS
Crispy fried chicken wings and tenders in the flavor(s) of your choice, served with dipping sauce.
Wings: 30 pieces per order/flavor
Tenders: 15 pieces per order/flavor
Wing & Tender flavor options:
Plain
Chipotle Honey
Haus BBQ
Haus Buffalo
Nashville Hot
Dipping sauce options:
Miso Ranch
Miso Bleu Cheese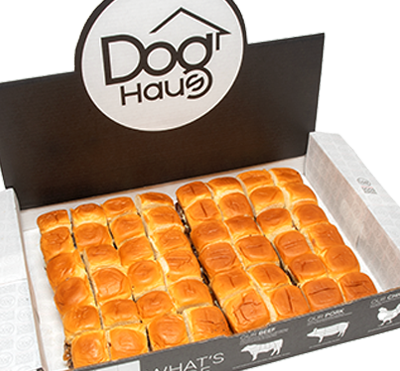 CHOPPED CHEESE SLIDERS
24 slider packs come in 4 kick-ass chopped cheese flavor options, served hot and ready to eat.
Chopped Cheese
angus beef, white American cheese, caramelized onions, mayo; served on King's Hawaiian rolls
Roadside Chopped Cheese
angus beef, white American cheese, caramelized onions, diced onions, pickles, secret sauce; served on King's Hawaiian rolls
Impossible™ Chopped Cheese
plant-based Impossible™ beef, white American cheese, caramelized onions; served on King's Hawaiian rolls
Pastrami
pastrami, mozzarella cheese, pickles, secret sauce; served on King's Hawaiian rolls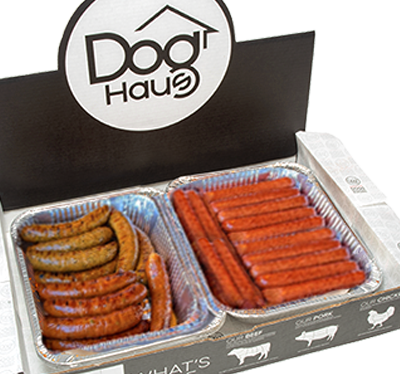 BUILD YOUR OWN BAR
Build Your Own Bar includes all the proteins, toppings and sauces you need to make your own delicious creations.
10 portion minimum per group order.
All group orders include the following:
Proteins (all beef dogs, gourmet sausages, burgers, chicken + more)
6 Toppings (tomatoes, lettuce, onions, pickles + more)
3 Sauces (ketchup, mustard, secret sauce, chipotle aioli + more)
Premium Toppings for an additional cost (avocado, bacon, haus chili)
Grilled King's Hawaiian rolls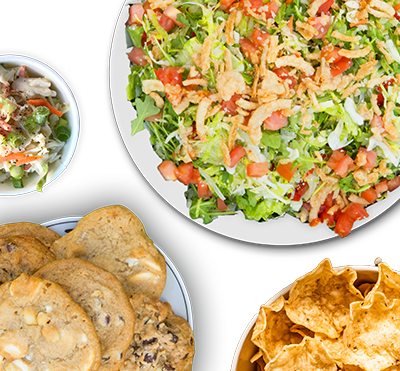 SALAD, SLAW & OTHER SIDES
Complete your meal with a salad featuring our hausmade dressings, haus slaw, corn chips and cookies.
Salad dressings include:
Miso Ranch
Chipotle Aioli
Spicy Basil Aioli
Secret Sauce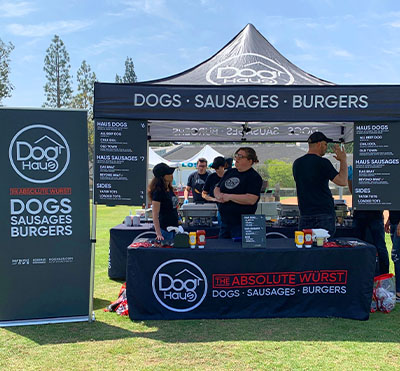 ON-SITE PREPARATION
For larger events, our on-site catering team brings the party to you. Enjoy The Absolute Würst, fresh off our grill.
Menu offerings may vary by location
FREQUENTLY ASKED QUESTIONS
How do I place a Dog Haus Catering Order?
What's included with a Dog Haus Catering Order?
Your custom catering order will include:
The Dog Haus meal items you requested, packaged neatly in our branded catering boxes

All the sauces, dressings or toppings that accompany your custom order

Dog Haus plates, serving utensils, plasticware and napkins
How many people does a catering order serve?
We can serve groups of any size, from 10 people to 500 or more.
How much food should I order for my event?
Click here to connect with one of our catering specialists, who would love to work with you to craft your perfect event.
Is there an order minimum?
There is no order minimum for Dog Haus catering. If you require smaller portions, you can always order off our main menu by clicking here.
Can I order catering for delivery?
Yes! Delivery for catering orders is based on your delivery address or area of availability.
What is the fee for delivery?
Delivery fees vary depending on distance and order size.
Do I need to order in advance?
Orders require 24 hour advance notice. If you need to place a rush order, please contact us here.
What is your cancellation policy?
There are no cancellations or refunds within 24 hours of pickup or delivery time.
My organization is tax-exempt. How can I place a tax-exempt order?
Are you able to accommodate special dietary needs & allergies?
Yes! Please identify any special dietary needs or allergies when speaking with your Dog Haus catering specialist via the online form here.
Can I host my party at my local Dog Haus?
Absolutely! Simply reach out to your local Dog Haus or visit us in-haus to ask. We would love to work with you to ensure your Haus Party is a success.