IF YOU BUILD IT
THEY WILL COME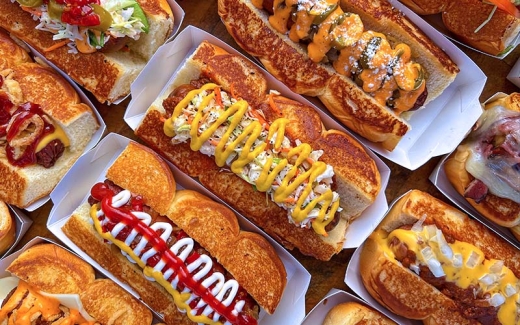 DOG HAUS CATERING
Make your next party, office lunch or special event a hit with a Dog Haus Catering box. Guests can build their own gourmet hot dogs, sausages, burgers and chicken sandwiches and enjoy a full meal with sides, drinks and dessert.
Our custom packaging allows for a well branded and simple service setup. Your friends, coworkers, family and/or guests can choose from a variety of fresh toppings to create their own masterpiece. Escape the ordinary by letting Dog Haus cater for you!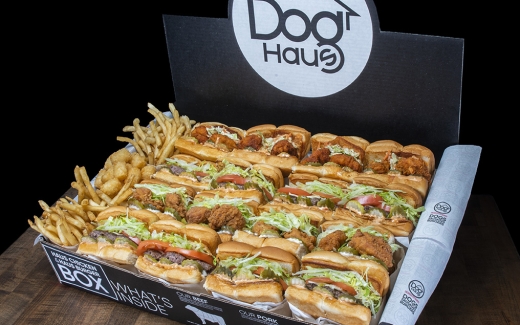 MAKE IT HAPPEN
1. Contact Your Nearest Dog Haus

Call or visit the Dog Haus closest to you to place your order.

2. Fill Out Our Catering Order Form

Select the items you want to serve

3. Pick Up Your Boxes

Let us know when you need it—we'll have it ready for you; or ask us about delivery options.

4. Build Your Own

We'll supply all the building blocks for a great meal—put them together your way.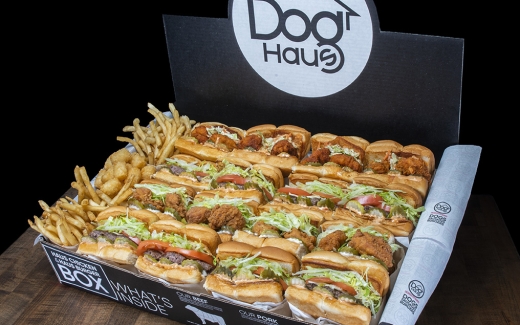 PROTEINS
HAUS DOGS
HAUS SAUSAGES
Bratwurst
Polish Kielbasa
Spicy Italian
Beef Chorizo & Pepper Jack
Beyond Sausage® Bratwurst
Beyond Sausage® Hot Italian
HAUS BURGERS
Cheeseburger
Impossible™ Cheeseburger
HAUS CHICKEN
TOPPINGS
CHOOSE 9 TOPPINGS
Tomatoes
Wild Arugula
Lettuce
Onions
Caramelized Onions
Crispy Fried Onions
Sauerkraut
Slaw
Pickled Peppers
Pickled Jalapeños
Dill Pickles
Sweet Pickle Relish
White American cheese
Sliced Cheddar Cheese
Cotija Cheese
PREMIUM TOPPINGS
SAUCES
INCLUDED IN ORDER
Ketchup
Mustard
Mayo
Secret Sauce
Chipotle Aioli
Spicy Basil Aioli
ON THE SIDE
Salad (Mixed Greens)
Slaw
Corn Chips
Dirt Bag (Corn Chips with Chili, Cheese Sauce and Scallions)
Cookies (Assortment of 10)
DRINKS
Coca Cola
Diet Coke
Sprite
Juice Box